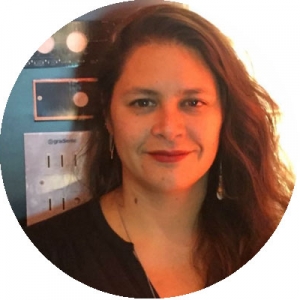 Paulina Chamorro
Rádio Vozes | Portal Ecoera
Awarded journalist, radio broadcaster and an expert in environmental issues. In her professional career, she worked at Rádio Eldorado, being responsible for the station's agenda and also a producer and reporter, in AM and FM; served as communications consultant for the Mata Atlântica Biosphere Reserve (MAB – UNESCO); and as a producer, reporter and screenwriter for the TV show "Mar Sem Fim", with which she sailed the Brazilian coast from Oiapoque to Chuí. It was featured on TV Cultura and TVE RJ. Besides all that, she was the environmental coordinator of Rádio Eldorado and Rádio Estadão from 2007 to 2016; host of the shows "Planeta Eldorado" and "Planeta Estadão"; and coordinator of the environmental education project "Pintou Limpeza" in the newspaper "O Estado de S. Paulo" for 9 years. She is also the producer of documentary filmmaker Céline Cousteau's "Tribes on the Edge: Amazon" project. Having won two Chico Mendes awards for the best radio program, in 2016 she also received the João Pedro Cardoso Medal from the São Paulo State Government for raising awareness to the environment and the culture. She collaborated with projects from Greenpeace BR and Conservation International Brazil with communication strategies. Currently, she coordinates the agenda of Rádio Vozes, where she also hosts the show "Vozes do Planeta", and is the content editor of Portal Ecoera.
EARTH, AIR AND WATER
What is the panorama of this important tripod for life on Earth?