ABOUT FRUTO

FRUTO is a PLATFORM of engagement and mobilization, who goal is to discuss food, and today´s problems and challenges concerning it, and to propose solutions for years to come. FRUTO is born of the need to carry a message to the world. A message that man is the greatest link between nature and cuisine. A message for reorganization and resolution of the problems involving the global food.

One of its initiatives is the seminar FRUTO, an international event held annually in São Paulo, created by chef Alex Atala and the cultural producer Felipe Ribenboim, and supported by the ATÁ Institute.

In the first edition of FRUTO, in 2018, the event was attended by names such as: Carlo Petrini (Slow Food), Céline Cousteau (World Economic Forum Council on Oceans), Luis Ginocchio Balcázar (Peruvian Gastronomic Society) and Ron Finley (The Ron Finley Project).

In the end, the event left a legacy of 10 Seeds, a document that drew 10 findings and solutions to feed the world with quality in the coming years, alarming the sócio-environmental impacts of the current system and the importance in reconnecting the urban space with the field and forest.

In January 2019 the event brought together experts such as Atom Sarkar (neurosurgeon), Soledad Barruti (Journalist), Alice Waters (Slow Food), Douglas McMaster ("zero waste" restaurant Silo), Chido Govera (The Future of Hope Foundation), Andoni Aduriz (Mugaritz), Raimunda Rodrigues (Association of Residents of the Iriri River Extractive Reserve) and Shi Yan (CSA farmer).

As a result, the event feed us with two documents. A diagram called the Food Sync, which draws in a simple and direct way a picture of the food cycle and its paths. And also another document named as Roots, with highlights arguments from the Food Dialogues about Waste, Education and Public Policies, defining territories where experts from the event realized that it is necessary to act in a priority way to strengthen the changes that are already beggining to happen in the entire food production chain.
FOOD SYNC

by Rafael Mantesso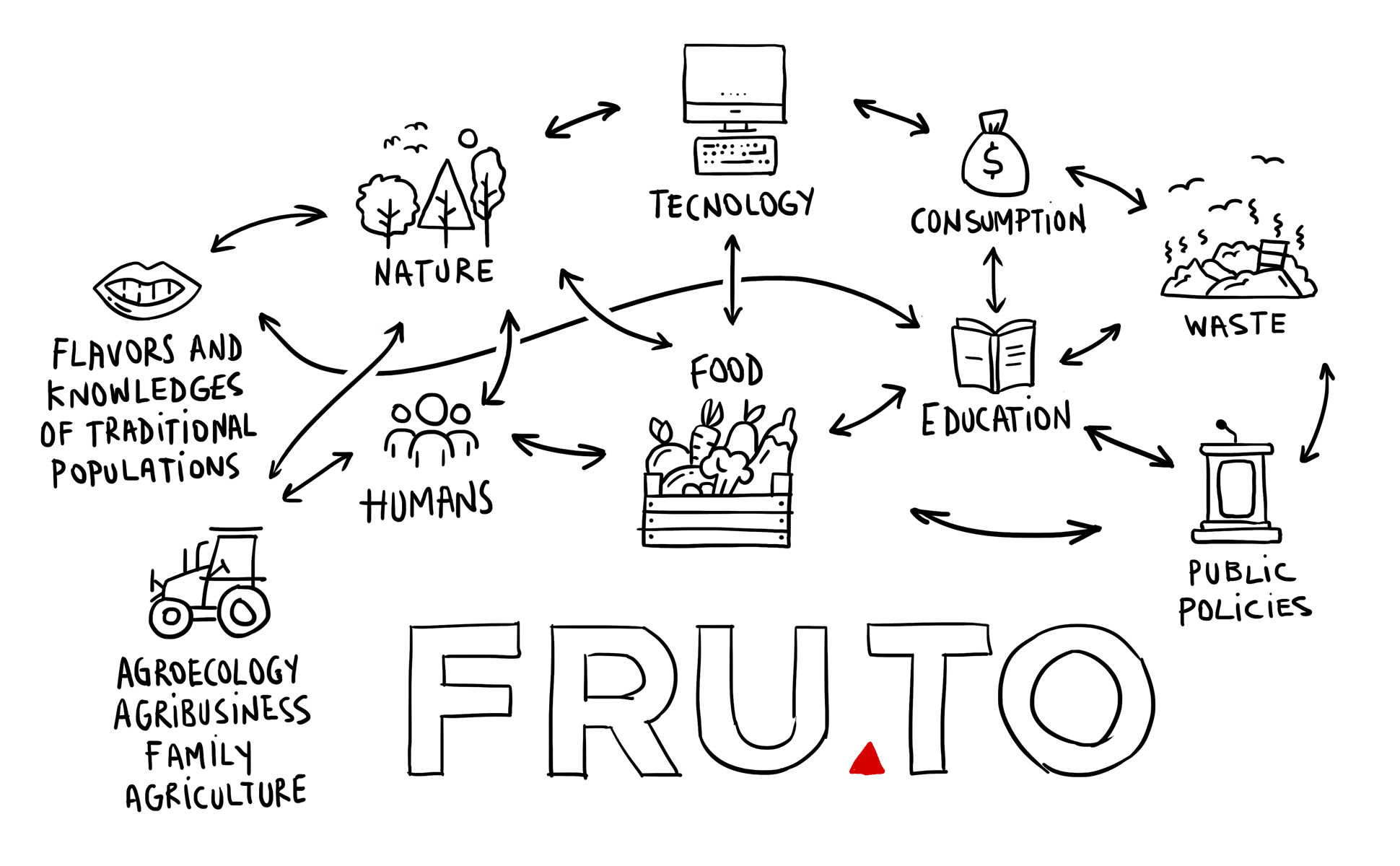 COEXISTENCE

Everything is connected.

CONSCIOUSNESS

Some connections should be strengthened. Others should be reviewed.

SHARING

Impact and collective transformation.

FRUTO
This error message is only visible to WordPress admins
Error: Access Token is not valid or has expired. Feed will not update.