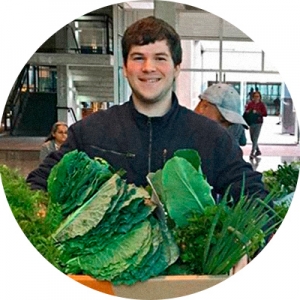 Alexandre de Moura Feriance
Cooperapas
Alexandre is an agricultural assistant at the farm Fazendinha Pedaço do Céu. He is the son of a farmer, and works with both organic and biodynamic agriculture. These two types of agriculture going on in the farm replace irrigation for the covering of planting beds with pruning residue. This keeps the food moist, but not too watery, and lends it a stronger flavor.

An advocate for the environment, Alexandre travels to different cities to spread ideas of environmental protection and re-education, that make for a better, greener and healthier future.

Recently, he has been coordinating the studies of a group of young rural entrepreneurs in the production of sprouts and tiny vegetables known in Brazil as 'miniverdes,' mostly to supply the vegan public demand. This fosters sustainable rural development.
LAND OF MILLENIALS
Generations Y and Z in the field, doing land work